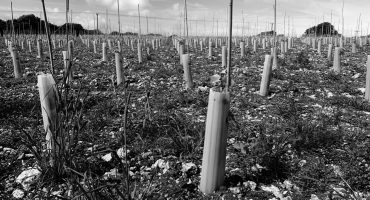 Why It's Time To Get Excited About English Wine
Exploring the burgeoning English wine scene.
For the last two months, in any spare days we could find, we've been visiting the wineries and vineyards of southern England, and it turns out that English wine is some of the best in the world.
It sometimes felt like selling English wine was fighting a losing battle. The patriotic urge to talk up our own product was tempered by our indifference with most of what we had tried. Meanwhile, top English sparkling wine producers, quite within their rights, expected and/or needed to be able to charge as much as their Champenois cousins. In response, consumers have balked at the price of the unknown. Still wines were no easier. £15-20 for underripe Bacchus, the not-so-poor-man's Sauvignon Blanc, or worse, unpronounceable Germanic cross-breed grape varieties, meant it was never much more than a local curiosity. "Not bad for English" became the country's motto.
However, with the constant improvement in winemaking (without doubt, in huge part due to the work of Sussex's Plumpton College, the only place in the UK where one can study viticulture and winemaking), brave top-down investment from wealthy benefactors, and the double-edged sword of climate change, the tide has turned. Even those cross-varieties, like the perfumed Siegerrebe, citrus and tropical fruit led Madeleine Angevine or peachy, versatile Ortega, have found their place in the vineyard and in the hearts of their winemakers.
'English' vs Champagne
The key though, is undoubtedly the classic triptych of Chardonnay, Pinot Noir and Pinot Meunier. The three core grapes of pretty much all of the world's classic sparkling wines are perfectly suited to England's south coast, especially in carefully chosen, warmer south-facing microclimates in Hampshire, Sussex and Kent.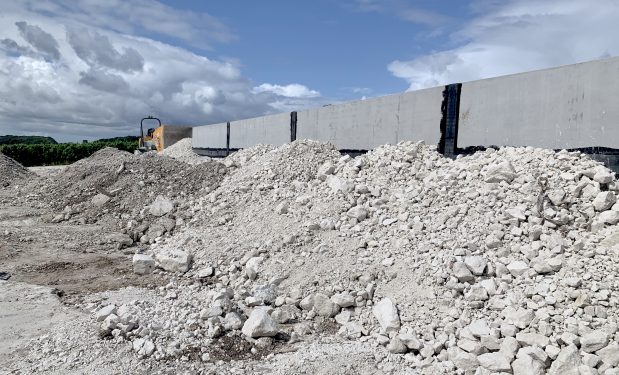 A great deal is made of the layer of chalk that appears both in Champagne and the south of England, and its perceived importance for the production of fine English sparkling wines to rival French. Without doubt, some of this country's best wines do come from vines planted on top of, or in some cases directly into chalk, such as Wiston in Sussex, Exton Park, Hambledon and Raimes in Hampshire or Simpsons in Kent. Chalk drains extraordinarily well, forcing the vine's roots deeper in search of water and nutrients, theoretically stressing the plant into producing better quality fruit.
And for all the arguments on terroir and the influence of minerals in soil on the character of a wine, it may or may not imbue the finished product with a 'chalkiness'.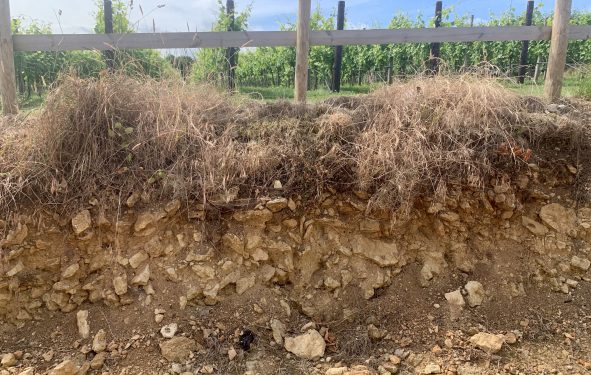 There's certainly a sense of it in the dry finish on Wiston's vintage sparkling wines from West Sussex, and especially so in Raimes' Hampshire Blanc de Noirs, made only from the two black grapes, Pinot Noir and Pinot Meunier. Ironic, given that the supposed best example of a chalky character in sparkling wine is the white Chardonnay grape of Champagne's Côte de Blancs, the chalkiest terroir of the region.
But just as many are making do without. Oxney and Gusbourne, not far apart on either side of the Kent/East Sussex border, are on a clay and silt mix. Considerably further north, our native Woodchester Valley, near Stroud, is planted on limestone and clay, draining just as freely once the slope is taken into account.
Climate Change
It may well be that our climate is the defining influence on English wine, as Kristin from Oxney explains. "The key about English wine is that we have such a long growing cycle. The wines we make, they are made here, in the vineyard. We have 4 to 5 months of the grapes being out here, enjoying life, that's a really long time. When you think about Scottish strawberries, they're delicious, they're the best; they have the longest season. We talk very badly about Dutch tomatoes, Spanish tomatoes, the reason why they're not very flavoursome is because they're so quick. It's all water." You clearly don't have to be on chalk to take advantage of a good site and make excellent sparkling wine, as Oxney and Gusbourne prove.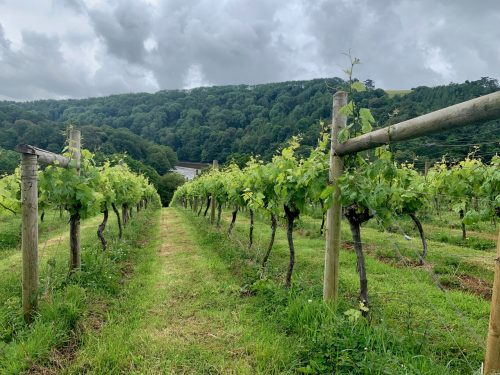 Further west, into Devon, site selection proves to be just as key. In these slightly cooler areas, on heavier clay soils which take longer to warm up in the spring, hybrid grape varieties are more prevalent. Sharpham Estate, on the river Dart in south Devon has taken to Madeleine Angevine in particular. Here it has a notable perfume, moving from citrus in their Dart Valley Reserve to more tropical notes in their Sparkling Reserve.
Many of these varieties were bred to ripen early, a key trait in the early days of English winemaking, when the climate was considerably cooler. Climate change is making life a bit too easy for these grapes, forcing winemakers to adapt to problems they'd never have expected. "I'm a big fan [of Madeleine Angevine]. I didn't expect to like it as much as I did" explains assistant winemaker Charlie. "It can get a bit flabby, but we pick it just below ripeness to keep the acidity".
Stranger Things
While the traditional method of producing sparkling wine prevails, a number of alternative styles can be found. We've long enjoyed Tillingham's Petillant Naturel wines, bottled during the first fermentation with the resulting sediment remaining part of the wine's character. We loved Ancre Hill's Monmouthshire 'pet nat' made from the hybrid red grape Triomphe, for a British alternative to northern Italy's Lambrusco sparkling red. Some are even branching out into the Charmat method, best known in Prosecco. Opinion is divided on its future."I mean, honestly, why?" Kristin fired at us.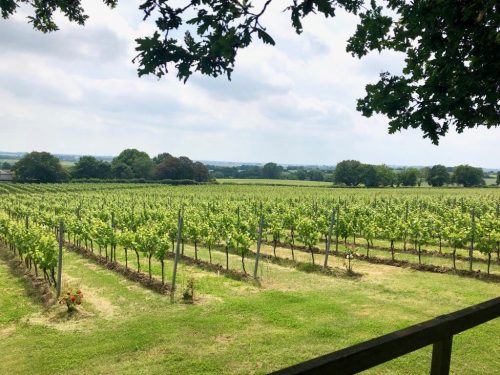 The biggest surprise of our travels was just how good English still wine is already, and how much better it could get from here. The country's vineyards are still relatively young, but even at this point, it was clear that Chardonnay from the warmer or well exposed sites in the south and even as far north as Wales, could be truly world class. We were blown away by Gusbourne's Guinevere and Simpson's Gravel Castle Chardonnays and can't wait for the latter to release their oaked style later in the year. Ruth Simpson explains it as having the "potential and opportunity to make a point of difference, to make our name quicker than with sparkling wines, being such a long process", not to mention "commercially it's useful, as far as cashflow is concerned."
Even Pinot Noir seems capable of being surprisingly good. Many producers outside of the south-east prefer an early ripening clone of the grape, Pinot Noir Precoce, or Fruhburgunder, which makes a delicate red, more English strawberry than the red cherry and forest floor that Burgundian Pinot offers. Where the climate is warm enough though, it is the Burgundian clones that thrive. Gusbourne's Pinot Noir in particular is outstanding, assuming you can get a hold of it.
Grape Talk
And when it's not still wine from the classic three varieties (Simpson's even make a very rare still Pinot Meunier which evokes strawberries with balsamic), the cross-bred varieties come into their own. As Martin Fowke of Three Choirs told us, "Everybody talks about English wine as though its one product; it's actually educating people that the wines from the south west are slightly different to the wines from the south east. There's room for everybody. Our sandy soils over here give us the fruit character but we possibly don't get quite the steely backbone you get from chalk. We've got a few aromatic varieties that work well for us that aren't grown by many others.
"Siegerrebe is a variety we grow that nobody else seems to get on with. [It's] early ripening, last year I picked it in August. It's not the fashionable style but everyone really likes it when they try it." Imagining it like an Alsatian Gewurztraminer with some good cheese, we completely understood.
There's a remarkable breadth to English winemaking that we simply didn't appreciate before venturing out to see it for ourselves. From Champagne-method sparkling wines to exotic whites and potentially Burgundy-beating Chardonnay and Pinot Noir, this is as excited as we've ever been in the wine trade. That it is on our doorstep is a complete privilege.
A few of our favourites.
Chardonnay, Pinot Noir and Pinot Meunier grown by the Raimes family in Hampshire, before being made down the road at Hattingley Valley winery. Pure, vibrant, perfectly ripe orchard fruit.
Gusbourne Guinevere Chardonnay 2016 - £29.99
Outstanding Chardonnay from Gusbourne's Boot Hill vineyard in Kent. All the zip of Chablis, the nose of Chassagne-Montrachet but distinctly English in its overall character. An incredible insight into the future of English still Chardonnay.
Sharpham Pinot Noir 2018 - £18.99
Dart Valley Pinot, who knew? Delicate strawberry, with the subtle spice of French oak. A wonderful surprise from our trip to Devon.