Wine Tasting Parties, Corporate Events & Christmas!
Looking for something a bit different for this year's Christmas party or corporate event? We've got you covered. Our tasting room, The Wine Library can be all yours for up to 30 people. Taste the night away at one of the finest places to drink wine in and around Cheltenham. Taste 32 wines by the glass from our Enomatic tasting machines then make the boss get a round in from our list of fine wines available by Coravin.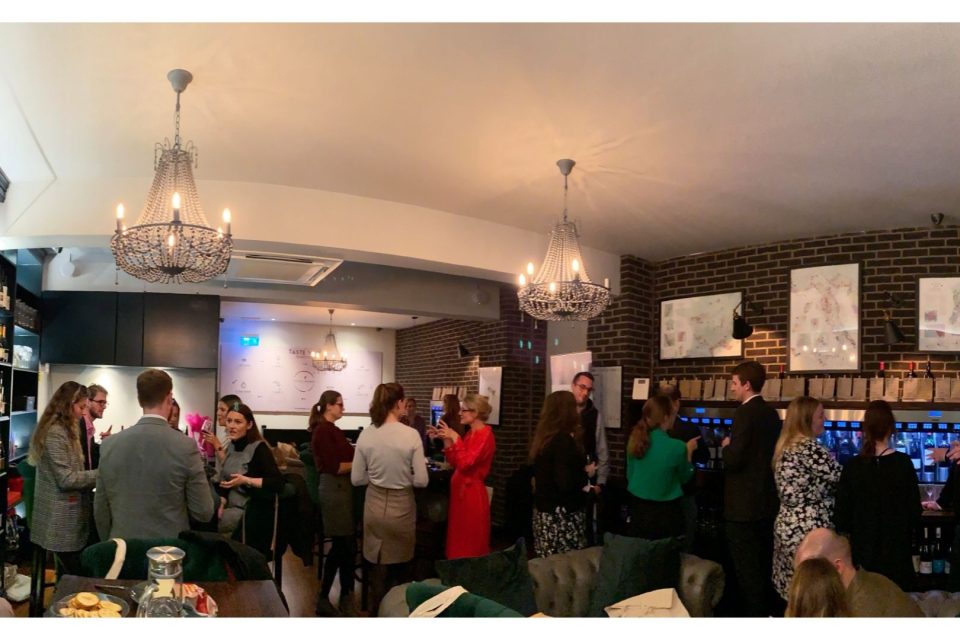 Exclusively Yours
The Wine Library upstairs at Tivoli Wines can be exclusively yours for up to 30 people (22 seated), and we have a number of options
that can be tailored to suit you and your guests. Whether you'd like a formal, sit-down tasting, or be left to taste the night away with
the 32 wines in our Enomatic tasting machines, we promise an exciting evening where your glasses are never empty.
All we ask is for a guaranteed minimum spend (from £350), which can be directly exchanged for credit to use in the machines, or to
go towards an educational tasting session on any theme of your choosing. These tastings start at £25pp and will vary according to
the number of guests, number of bottles, and the cost of the wines you'd like to try. If this is under the minimum spend agreement,
the remaining amount will be placed onto cards to use in the Enomatics.
At the end of the evening, should you have any left over
credit, this can be taken away and reused in The Wine Library, in-store or against our events and tours for a period of 1 year.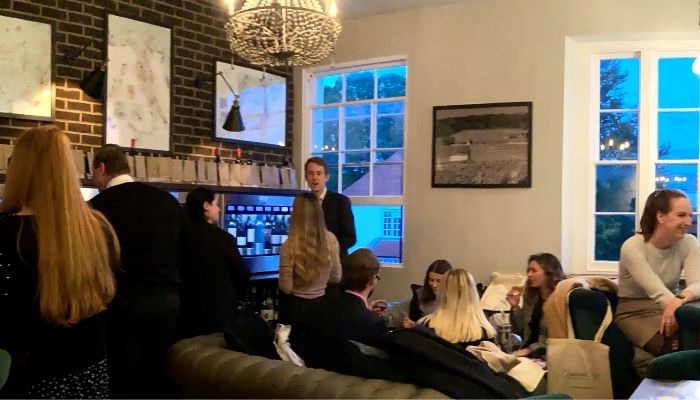 Added Extras - Cheese & Charcuterie, Fizz on arrival.
If you'd like food, we have a series of catering partners who can provide wonderful cheese and charcuterie platters to compliment
the wine. Unfortunately, this cannot form part of the minimum spend agreement, but we do allow private hire guests to bring in their
own food, which can help to keep costs down.
To add some sparkle to your event, we can organise fizz upon arrival, which starts at £4/glass. And if you'd like to literally add some
sparkle, you can personalise the room with decorations prior to the start time, we just ask that you take them home with you when
you leave. And, as much as we don't want to be party poopers, we're unable to permit lit candles in The Wine Library.
Booking Information
WEDNESDAYS & THURSDAYS
6pm – 10pm – £350, extended to 11pm for £450 min. spend
FRIDAYS & SATURDAYS
6pm – 10pm – £450, extended to 11pm for £550 min. spend
---
Direct credit/educated wine tasting
Choose if you'd simply like credit for the machines, or taste a selection of wines with one of our team – from £25 per person
---
Extra: fizz on arrival
from £4/glass – cava/prosecco
from £8/glass – Champagne/English Sparkling
---
Extra: Cheese & Charcuterie
Small (2-3) £18, Medium (3-4) £30, Large (4-6) £40
Canapes/Tapas can also be arranged – enquire upon booking
---
To book or discuss your specific requirements with one of our team
Call 01242 269886 or email us at shop@tivoliwinescheltenham.co.uk