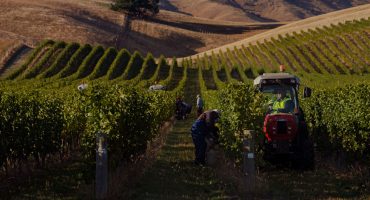 Tivoli Wines meets Kevin & Kimberley Judd of Greywacke
We caught up with Kevin and Kimberley on their recent trip to the UK to find out how things have changed in Marlborough.
Having just completed their tenth vintage under the Greywacke name, husband and wife team Kevin and Kimberley Judd are perhaps unsurprisingly reflective on the decade preceding them, particularly when the last two have been some of the most challenging in recent memory for New Zealand.
"Wettest February on record."
"Hottest January on record" Kimberley adds.
"Then 3 inches halfway through harvest." Surprisingly, after all that, we achieved very good ripeness and had two big blocks and a couple of smaller ones that survived in perfect condition."
Struggles of the 2018 harvest - quality over quantity
Kevin Judd and his wife Kimberley, co-owners of Greywacke, rightly one of Marlborough's most respected wine labels, are discussing the struggles of the 2018 harvest, still fresh in the memory when we chatted in early June. "The'18's looking pretty damn good. "For us, 2018 was much better than 2017, from a quality perspective."
"Not so much from a volume perspective."
We're discussing the 2018 vintage by way of tasting, and ruminating on that of 2017, the most recent release of Greywacke's Sauvignon Blanc, and the fact that they'd now dealt with a "couple of tricky vintages in a row". Everything was going fine for the 2017 vintage, despite unexpected rainfall in November, until two cyclonic fronts made their way across the South Island of New Zealand, necessitating an urgent harvest.
The Critics' Response
The difficult vintage has consequently seen some variation in the response from wine critics to the 2017 Greywacke Sauvignon Blanc. Scores of 16.5 (/20) from Jancis Robinson, 91 (/100) from New Zealand wine expert Rebecca Gibb MW in Decanter and 95 (/100) from Bob Campbell MW have shown that wine criticism is highly subjective, never mind Maryann Worobiec in the Wine Spectator scoring it 87 points (/100), a little unusual given some of the other scores dished out for this year's releases.
"Considering the vintage, we were absolutely delighted with what we ended up bottling. It's our interpretation of a classic Marlborough style. We're trying to make a ripe, textural, not too in your face style, [that's] not too acidic."
Is climate change affecting Marlborough's wine?
Is climate change affecting Marlborough's wine?"It's warmer. '12 was cool, not cold. The first 4 Greywacke vintages were average, all the vintages since [2012] were warmer than average. They're saying the water temperature in the Marlborough Sounds was 7°C higher than average. And we've had more impact from the South Pacific cyclones."
Of course, conditions have never been that consistent at any time during Kevin's career in New Zealand. "The biggest variability of condition was actually in the 90s. In '90 we had a minus 5 frost that went through harvest. We've had a few since towards the end of harvest, you can sort of cope with it towards the end. But we were just finishing Chardonnay and starting Sauvignon Blanc and there was only one vineyard in Marlborough left with any leaves and that was at top of the Brancott. Then we had a couple of inches of rain, so the leaves went brown and the rain made them all soggy and they flopped onto the bunches. We had the fans turned up to try and blow all the leaves and ***t out."
The Coldest. The Wettest. The Hottest. The Driest.
"Then'93 was the absolute coldest on record, [and] still is. That was Mt. Pinatubo (the volcano in the Philippines that erupted in 1991, causing global temperatures to drop by 0.5 degrees Celsius for the following two years, such was the concentration of particulate in the atmosphere). '95 is still the wettest on record. '98 was the hottest on record and '01 was the driest on record so within 11 years we had a lot of strain."
That cyclonic weather is having that much more influence on the region is a concern for the future. Coming from the North, the rain falls warmer, making the dreaded Botrytis more likely to hit. Kevin romanticises "I love the sound of the rain on the roof. But not during harvest", before remembering that we'd been discussing his Sauvignon Blanc. "Yeah I think the Wine Spectator were a bit hard with us on that one but you've got to take the good with the bad…"
Alternatives to Sauvignon Blanc?
What about the talk of winemakers needing to look for alternatives to Sauvignon Blanc? Kevin isn't so sure. "David Hohnen (Kevin's former employer and founder of Cloudy Bay) was worried that it would go out of fashion back in 1990." Tasting the 2015 vintage of Kevin's Wild Sauvignon, a wine we've been huge fans of for quite some time, you might question whether the truest expression of Marlborough Sauvignon Blanc has yet been settled on.
This is deeply textural, even compared with the house style, but against the slew of higher yielding, less concentrated examples that have flooded the market, it's a pleasant surprise to taste the grape in this, dare I say, more serious form. Were it not for the vibrancy of the ripe fruit, this could almost be mistaken for top level Bordeaux Blanc. This complexity should come as no surprise given that the wine has fermented for almost a year, speeding up and slowing down with the seasons as the 'wild', fragile yeast goes about its job.
"There are certainly people mucking around with other varieties, Gruner Veltliner, little bit of Syrah. I'd be tempted to do a bit of Syrah one day", Kevin moots.
Kimberley adds "The problem with Marlborough is, well, anywhere probably, that we've got such big companies coming in and they're still planting huge tracks of it [Sauvignon Blanc], and you think 'where on earth is it all going?"It must be hard to find anywhere to plant new varieties with this going on, never mind the risk of more experimental wines becoming swamped by the extra output of the area's star turn.
All about the timing
Something that saves producers like Greywacke in these erratic weather conditions is their propensity to crop lower so that they can ripen and therefore pick earlier. Having already restricted the crop, standard procedure for fine wine producers looking to concentrate growth into less, but higher quality fruit, Kevin and his team were able to harvest ripe fruit before the worst of the rain. For Kevin, making wine is "more about the vineyard sites. Keep the crop down [and] get it as ripe as possible." Larger, more "corporate" producers need to bring in the biggest crop they can to make as much wine as they can, which inevitably comes at the cost of quality, albeit giving supermarkets something to shift by the pallet at £7 or £8 a bottle.
'Appellation Marlborough Wine'
To counteract this, a group of Marlborough's top winemakers recently came together to form 'Appellation Marlborough Wine'. Led by Dog Point's Ivan Sutherland (who, along with Dog Point co-founder James Healy, had worked with Kevin at Cloudy Bay, and now supply him the majority of Greywacke's grapes and space in their winery to make it), they aim to "protect the integrity, authenticity and brand value of wines produced in Marlborough."
"We're signed up. It's a concern that there's no regulations over stuff that's bottled overseas (much of Marlborough's bulk wine production is shipped to the EU in 'bladders' before being bottled, reducing shipping costs). It's a concern to see all the greedy bastards jumping on the bandwagon, doing a really poor job of viticulture. It gives the brand a bad name.
The Story of the 'Sauvignon Blanc lees / Riesling'
We move onto the 2015 Greywacke Riesling, made in an off-dry style. Half of the wine is fermented in old barrels with natural, wild yeasts, the other half in stainless steel. As in their Chardonnay, the wild yeast appears to add a little smoke, which in turn seems to be melding with Riesling's inclination to develop petrol notes with age. Despite only being three years old, this is already coming on nicely.
"How much did we make this year Kevin, a bit more [than last year]?" Kimberley asks, provokingly.
"50 cases is the total production of the '17…"
The story begins. "We picked it." Kimberley corrects herself, "I picked it."
Kevin takes over. "We couldn't get pickers. Everyone was going crazy because of the weather. Richard (Ellis, winemaker at Greywacke, and one of the team's two other full-timers) talked the office team into going out and picking it. So they picked a tonne-"
Kimberley resumes, to ensure the truth is told. "and he [Kevin] wouldn't help pick it!" She takes on a Geoffrey Boycott-esque, curmudgeonly drawl to quote Kevin, "ohh, you're wasting your time!"
Despite Kevin suggesting that the team wait a couple of days and wait for pickers, Kimberley and Co press on, picking one tonne of fruit in a day, leaving five tonnes of fruit, hopefully to be picked later.
"Sure enough, two days later the pickers arrived and we picked it, got the juice in the [other…] tank. Someone who'll remain anonymous hooked up [the pumps], got the instructions wrong [and] instead of pumping into P4, he pumped into 5.4 … and he was pumping Sauvignon Blanc lees into the second riesling tank. 2000 litres of riesling became 5000 litres of Sauvignon Blanc lees-Riesling."
"They never got the Sauvignon Blanc juice back."
If (accidental) sabotage isn't Kevin's biggest threat, what is? "Botrytis. And corporate companies."