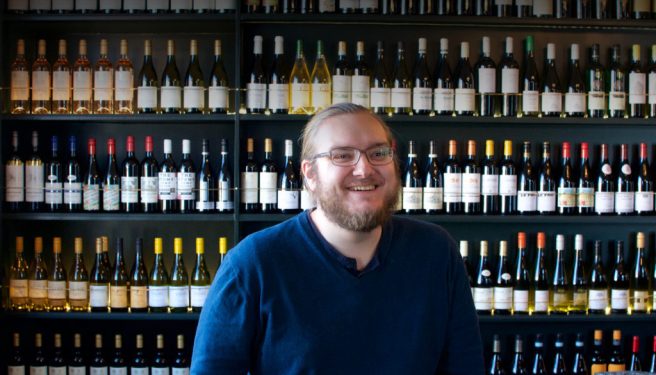 Meet The Wine Buffs - Calum
Every month, we ask our team to give their recommendations. For November's wine recommendations, our first, we asked them to introduce themselves a bit too. Here's Calum...
Every month, we ask our team to give their recommendations. For our first month's wine recommendations, we asked them to introduce themselves a bit too. Here's Calum, our Marketing and Spirits guy...
Drink More Bojo!

My first recommendation for the month is La Reine de L'Arenite Fleurie 'La Madone'. There's quite a few words in that title and we're going to do an explainer on what to look for in a wine label on the blog very soon. Once you've learnt a few basics to look for you'll start decoding labels in no time, and realise that you know a lot more than you thought!
This is a light, easy drinking red from the French Commune Fleurie, in the wine region of Beaujolais, sandwiched between Burgundy and the Rhone Valley. The name is quite appropriate; it's slightly floral, fruity and most importantly delicious. It's easy to lean on big, bold red wines but when there's a whole world of really great and refreshing medium bodied reds just like this one, it seems a shame to miss out.
Beaujolais reds are made from the Gamay grape, which tends towards aromas of red fruit like strawberries, raspberries and red cherries. This Fleurie has all of that, with some refreshing acidity to balance. Wine writer Jon Bonne said it best when writing about Beaujolais in Noble Rot magazine (if you've not read Noble Rot yet, treat yourself to a subscription for Christmas) last year, "Pinot [Noir] wants to be loved; Gamay wants to fuck". If that doesn't make you want to nail a bottle of Beaujolais, I don't know what will.
How did you end up in the wine trade?
I got sick of music for a while after studying Music Production for three years and decided to try hospitality, having loved food and cooking in my teens. I found a job as a waiter in Leeds and ended up with an interest in wine. That evolved into an interest in all drinks, working as a bartender and learning about premium spirits, doing the odd part-time stint for Tivoli Wines, then coming back full-time after a brief spell as a Bar Manager and a slightly more random detour via the software industry.
The Loire Valley - More Than Just Sancerre
My second recommendation for the month is Domaine du Petit Metris Savennieres 'Clos de la Marche'. Savennieres is a small Commune in the Loire Valley, better known for the Sauvignon Blanc of Sancerre and Pouilly Fumé to the east. Here though, they use the white grape Chenin Blanc, generally very ripe, for a more full-bodied wine with intense aromas of almond, quince, white peach and verbena.
I love this wine. It has a complexity that needs a bit of time to open up, but with its acidity, that just makes this a great and versatile wine to savour with good food, from white fish to roast pork and apple sauce.
What wine changed your life?
The wine that made me see that wine can be interesting was an Awatere Valley (NZ) Sauvignon Blanc, which is ironic now that I'm sick of most Sav. Sniffing a glass of white juice and finding aromas of nettle and elderflower took me back a bit. Last year I shared a bottle of Henri Gouges Nuits Saint Georges Les Pruliers with some friends after a tasting and that really stunned me. Lovely perfumed aroma, earthy and mushroomy. Good Burgundy is just unlike anything else.
Want to find out more about our Wine Buffs? Read about David, Tina and Mike here.