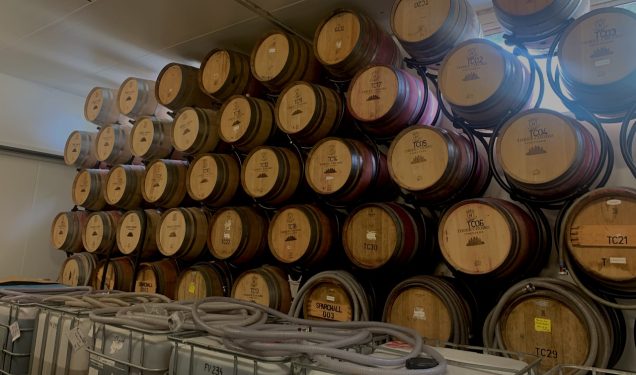 Good Reasons To Drink English Wine
Our man-on-the-inside delves into why we should be paying more attention to English and Welsh wines, both still and sparkling.
The modern English wine revolution is one of the greatest agricultural success stories of recent years and excitingly the industry is very much at the embryonic stage of its journey.
There's evidence that wine production existed in the UK as far back as Roman times, but it wasn't until the 1960's that commercial-scale plantings began to take root. Then, in the late nineties the country achieved global recognition for its award-winning sparkling wines and the revolution began.
The continued rise over the past decade has been nothing short of meteoric. Vineyard plantings have increased by more than 150% to around 3,500 hectares. To put that into context, that's roughly equivalent in size to the Côte de Beaune region in Burgundy or one tenth of the size of the entire Champagne region.
Why should consumers be getting excited?
Take our performance in global tasting competitions. It has been nothing short of mesmerising since 1997 when Nyetimber scooped an IWSC Gold for its first-release sparkling wine. Last year at the Decanter World Wine Awards, the UK secured a record 155 awards including two that were judged to be in the Top 50 best tasting wines in the world! One was sparkling and the other a still white.
We're now regularly outperforming Champagne on taste so it's no surprise to learn that two major champagne houses have already invested in land in the UK (Domaine Evremond and Louis Pommery).
Support local this summer
If the roadmap out of lockdown goes to plan this spring, what better way to celebrate the arrival of the British summer by indulging in some of our very own during English Wine Week from the 19th to 27th June. We've been blessed with some outstanding vintages recently too so now is the perfect time to get involved.
There are plenty of English and Welsh vineyards that will welcome you with open arms if you're planning a staycation because overseas travel looks less and less likely or desirable.
Wine tourism in the UK
Wine tourism already generates significant revenue for the UK economy through tasting experiences, stays amongst the vines and cellar door sales and the industry is poised ready for when the pandemic restrictions are lifted. Just think, you'll also be reducing your carbon footprint too!
Nyetimber, Rathfinney and Bolney in Sussex, Chapel Down in Kent and Camel Valley in Cornwall do it particularly well and there are a host of others who are also part of this fast-growing and lucrative sector including Ancre Hill (Monmouth), Denbies (Surrey), Gusbourne (Kent), Hush Heath (Kent), Langham (Dorset), Oxney Organic (East Sussex), Sharpham (Devon) and Three Choirs (Gloucs).
So what factors have led to the UK's rise to fame?
UK winemakers are free from the shackles of sometimes archaic and outdated regulations that face many of their European counterparts. Rules governing what grape varieties can be grown or what winemaking methods have to be adhered to are simply not an issue. Producers can adapt to the climate and soil and plant the best grape varieties suited to both. This is vitally important when working in such a marginal climate.
Pushing standards for the future
Innovation is an area where the UK excels thanks to self-investment from producers coupled with £6m of government backing in 2020. Bespoke digital weather stations, high-tech systems to identify and remove micro-organisms on the grapes that can cause spoilage and waste and CO2 reduction processes are just some of the recent developments that are being praised.
An industry-wide sustainability scheme that was created at the beginning of 2019 by WineGB, the UK's trade governing body, helps underpin innovation as well as green credentials by offering certification for members that can prove their environmental sustainability. It focusses on measures like the protection of vineyard soils, minimal use of herbicides and pesticides, promotion of biodiversity and reduction of water and non-renewable energy input. Wineries will be audited on a three year cycle to ensure compliance.
There are already 14 fully certified members who can be found on the Wines of Great Britain website (www.winegb.co.uk).
Education, education, education
Plumpton College in East Sussex is a cornerstone of the UK wine industry and has gained international recognition for their degree courses in vineyard management and winemaking as well as wine sales and marketing which they've been teaching for the past 25 years. They will be pivotal in helping WineGB meet its target of expanding the industry's current workforce of 4,000 to 24,000+ by 2040. This in turn will continue to boost the agricultural sector and the rural economy as a whole.
Climate change; positive or negative?
There's no question that climate change has played a part in this rise to fame with the increase in average mean temperatures making it possible to grow grape varieties that we couldn't have even considered before. So much so that Chardonnay and Pinot Noir are by far the most widely planted varieties making up around 65% of the UK's total plantings, then followed by Pinot Meunier (13%). It almost mirrors the split between sparkling wine (72%) and still wine (28%) production and this is likely to increase in favour of sparkling wine into the future.
There is always a flip side and the earlier growing cycle does expose the vines to a potentially more volatile period of weather, namely spring frosts and storm damage. Producers are trying to mitigate this as much as possible through careful site selection and investing in frost prevention measures.
A little English heritage
There are a growing number of producers that feel there's an important role for our heritage grape varieties, those Germanic hybrids planted since the 1960's because of their suitability to the climate. Bacchus, Seyval Blanc, Rondo, Kerner and Madeleine Angevine are some of the more recognised with Bacchus now widely regarded as our signature variety.
Could the god of wine be our calling card?
The Bacchus grape variety was first created by the Germans in the 1930's by combining a crossing of Riesling and Silvaner with Müller-Thurgau. It's an early-ripening grape and generally yields well even in cooler conditions so it's perfectly suited to the English climate. It's characterised by higher acidity, making it comparable to Sauvignon Blanc, but perhaps without the pungency and with more floral notes. It can be found in blends with some of the aforementioned varieties but is becoming more and more popular as a single-varietal wine.
Talented winemakers like Julian Barnes (Biddenden Vineyards), Chris Haywood (Astley Vineyards), Sam Lindo (Camel Valley), Duncan Schwab (Sharpham Estate) and the winemaking team under James Lambert (Lyme Bay), are crafting excellent examples that consumers can approach with confidence.
Are vintages important?
As you might expect with a marginal climate, vintages are very important and can vary widely. 'England's miracle vintage' in 2011 produced a total yield of around 22,660 hectolitres of wine of very good quality. That's just over three million bottles. The celebration was balanced the following year by challenges faced by climate and yield. Despite a 4% increase in new vineyard plantings, total yield plunged by just over two thirds equating to around one million bottles. Nyetimber, one of the largest and best-known producers, made headlines by making no wine at all that year because they felt the quality simply wasn't good enough. This reinforces the point that producers are not prepared to compromise on quality no matter what.
The last few vintages have given us unrivalled quality starting with 2018 that produced a near-perfect, record-breaking harvest. It's regarded as the vintage of the century. With twice as many vineyards as in 2011, the average yield was nearly two and a half times the size which equated to a whopping 13.1 million bottles being produced. A number of still wines are already available but many sparkling wines are yet to come.
Where's all this wine going?
Before the pandemic hit, around 60% of all sales were going through the UK trade, that's independent wine shops, online retailers, restaurants, hotels, wine bars and so on.  Around 30% was sold directly from the cellar door and the final 10% was exported. With annual sales in 2018 of around 3.2 million bottles rising to around 5.5 million in 2019 against a total production of almost 10.5 million, it would be easy to assume that some producers are currently faced with being overstocked. But when you consider that, in the case of sparkling wines, they take on average two years to produce and in some cases considerably longer, it will be some time before these hit the shelf.
What lies ahead for UK winemakers?
The future looks very exciting indeed but British winemakers will still face the challenges of high set-up costs, a marginal climate and wide vintage variation leading to inconsistent yields. This means that average selling prices for English wines versus the rest of the world are typically high but with quality rising year on year and the trophy cabinet bulging, spending that little bit extra not only supports our economy but is also more sustainable and helps to further reduce our carbon footprint.
Let's help to reboot the economy this summer and show our support for home-grown wines.