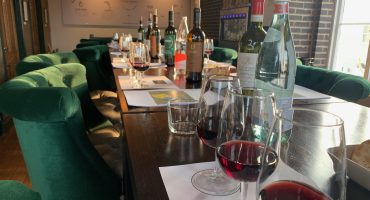 Brunello e Barolo - The Finest Wines of Italy
A delve into our first Fine Wine Wednesday tasting, and what's coming next.
Back in April, we held our first Fine Wine Wednesday tasting in The Wine Library, focussing on the great wines of Italy, Brunello di Montalcino and Barolo. Here's what we covered, the wines we tasted and what we're doing next...
Brunello di Montalcino
'Brunello' is the local name for the Sangiovese grape, specifically the 'grosso' clones. Ironically, the berries aren't actually that 'grosso', and are more likely to be smaller than average, leading to more influence from the grape's skins on the wine. The resulting structure is arguably the hallmark of Brunello di Montalcino. The wine comes from vineyards in the region surrounding the hilltop town of Montalcino in Southern(ish) Tuscany. Hence, the wine is Brunello (Sangiovese Grosso) from Montalcino.
Normal Brunello di Montalcino, if such a phrase is not unfair, must be aged in barrel for two years, at least four months in bottle, and together not released before January, the fifth year after the year of harvest. (Meaning that in 2019, the 2014 vintage was released.) Riserva takes this a year further, of which the wine should be aged in barrel for at least two and a half years, and for six months in bottle.
This all ties into the historic practice of 'elevage', or 'raising' the wine so that it is ready to be truly enjoyed on release (although it will often go on improving in the bottle after release). This isn't necessarily about adding oak influence to the wine, but to give it time to develop in itself, whether in barrel or bottle. The wine slowly mellows, tannins meld and flavours mature towards notes like dried fruit, forest floor and tobacco.
Keep It Small
Brunello di Montalcino is also restricted in terms of planting density and yields. Planting density, or how many individual vines you plant, is claimed to have an effect on the quality and vigour of the vines. The theory goes that tightly planted vines compete with each other for nutrients and moisture, which results in more concentrated flavour in the fruit. Here, the minimum is 3,000 vines per hectare, while elsewhere in the top vineyards of Europe it can be 10,000 per hectare or higher.
Yield meanwhile refers to the amount of wine produced from a weight of grapes or planting area. The rules in the best vineyards of Burgundy in France, frequently limit producers to around 35 hectolitres (100 litres to a hectolitre, in case you were wondering) per hectare. In Brunello di Montalcino, the maximum is 54 hl/ha, though many of the best producers will go lower.
For more on the numbers of winemaking, please read this brilliant piece by Richard Hemming MW on www.jancisrobinson.com.
Getting Dirty
Soil is one of the most important factors affecting wine, separating good from great in a way that the winemaker can do little about. Montalcino is host to a multitude of terroirs, from higher altitude sites above autumnal fog, with sandstone and limestone caps, to clay-rich lower elevations contributing fatter, more stolid examples. Inland sites stay warmer throughout the year, while to the south and west, coastal winds offer brief respite in warmer summers.
The Wines pt. 1
Given his love of Tuscany, Dave had the honour of presenting the tasting's three excellent Brunellos.
Caparzo Brunello di Montalcino 2010 DOCG
A fresher style of Brunello with most of its fruit coming from the Montesoli area to the north. As one of the larger vineyard owners of Montalcino, Caparzo are able to blend from multiple sites to balance their wine in a variety of conditions. Caparzo are relatively modern in production methods, utilising the latest technologies to produce their wines. This was lovely, fresh with red berry fruit and subtle hints of rose. 2010 was one of the greatest vintages in Montalcino's history, so it was a treat to see how this is evolving. A great start to the evening.
Conti Costanti Brunello di Montalcino 2013 DOCG
From an outstanding vintage, to a pretty darn good one. Conti Constanti's vines are to the south-east of Montalcino, with the juice fermented in tank before ageing in wood for a total of three years. The first year's ageing is in smaller barrels, impacting the wine more with flavours of vanilla and wood, before a further two years in much, much larger old Slavonian oak barrels. The tighter grain of these central European oak trees affects the wine less than French or American oak, so for those two years, the wine simply rests, with minimal air contact slowly softening its tannins. This might have been the best of the Brunellos; bright ruby, balanced, spiced, with incredible concentration and texture. Still incredibly young, needing another five or ten years to hit its stride.
La Serena Brunello di Montalcino 'Gemini' Riserva 2010 DOCG
Just 8,000 bottles were produced of this wine. The grapes come from the eastern side of Montalcino, organically farmed on limestone rich soils. Oak is limited compared to the previous two wines, with one year in smaller barrels and one in larger Slavonian. This, combined with the winemaking, gives the wine a brighter, more mineral character. Tamarind and sour cherry lead to a pure, tobacco-like, gravelly flavour on the palate. This wasn't a perfect bottle unfortunately, but still showed all of its potential.
Barolo
Barolo itself is a village in Piedmont, the half-mountainous, half-flat region of the north of Italy, effectively surrounded by Alps on three sides. As the mountains descend into hills, the ground becomes perfect for grape growing, with the highest peaks lifting the vines above the fog that blows in off the coast to south. The grape of Barolo, Nebbiolo, is named after the fog, or 'Nebbia', such is the importance of aspect here.
Yields and ageing time are similarly controlled here in Barolo. Yields are limited to a maximum of 56 hectolitres per hectare, while wines must be aged for 38 months, of which 18 in oak. Riserva wines must be aged to 62 months, though still only 18 months in oak. Despite the stipulations, there is still a huge variance in the character of Barolo wines. Through the 70s and 80s, younger producers began to use more oak and extract less from the tannic grape skins and pips. The film Somm 2: Into The Bottle tells the wonderful story of Elio Altare returning home from a trip to Burgundy having made the decision to clear the cellars of his family's prized old 'Botti' barrels, in favour of smaller French oak barrels, which contribute more of their flavour to the wine.
Barolo in Three Parts
Barolo is broadly divided into three parts. The south-east holds the sites of Serralunga, Castiglione, Monforte and Barolo itself. Here, the soil is comprised of more limestone, resulting in lean wines which traditionally need longer ageing. The south-west corner lies on a clay and sand mix, while the north-west, where the wines we showed come from, is considerably sandier and makes wines with comparatively less tannins, for earlier and easier drinking.
The Wines pt. 2
Corino Barolo 'Giachini' DOCG 2006
Celeste Corino moved to La Morra in northern Barolo in 1952, originally as a 'sharecropper', where land is divided and farmed by a number of people in return for a share of their crop. His son Giovanni followed in his footsteps and founded the Corino Azienda Agricola, which is now run by Giovanni's son Giuliano.
La Morra's sandy soils means that it tends towards fragrance and fruit in its wines. It is a large sub-region of Barolo, but this wine comes specifically from the Giachini vineyard at 250 metres above sea level. The 2006 Barolo was the last vintage released from this legendary producer before the two brothers, Renato and Guiliano, went their separate ways and split the vineyard assets between them. Unfortunately, just over 3000 bottles of this vintage was produced.
2006 was a cool vintage, generally creating austere wines which needed time. This is huge with eucalyptus, plum and spice, the oak seeming to draw it out of the grapes.
Castello di Verduno Barolo Riserva 'Monvigliero' DOCG 2008
Verduno is one of the less well-known villages in the Barolo zone, but it contains one of the very best vineyards in the whole appellation, Monvigliero. The soil here is called Marne di Sant'Agata, composed of clay and sand with a high proportion of limestone, and the vineyard forms an amphitheater facing south, at about 1000 feet above sea level. The grapes are picked in October when fully ripe, and kept on the skins for a total of 30 days or more. The wine is then aged in botti for 30 months, and spends about the same amount of time in bottle before being released.
The Castello di Verduno was built in 1500 and may well have been the site of the first Nebbiolo wines to be produced, in the mid 1800s. The wines are made at the Burlotto family's winery in Barbaresco, but aged and bottled at the historic castle cellars. This is old school Barolo; aged in big 'botti', imparting virtually no oak influence, but allowing the wine to ferment and age slowly. These wines are virtually impenetrable in youth, but with time, evolve into beautiful, fragrant and complex Barolo in the classic style.
This was considerably more subtle, the older oak softening the wine in as neutral a manner as possible. Dried cherry and subtle herbal notes, combined with high acidity would make this better suited to food.
Paolo Scavino Barolo 'Monvigliero' DOCG 2009
In the words of our supplier of Enrico Scavino's wonderful wines:
'One of Italy's great Estates with holdings in Barolos finest Crus, Cannubi, Bric del Fiasc and Rocche dell'Annuziata. Along with Elio Altare, Enrico Scavino is surely responsible for the great reputation Piedmont has today. Since the 1980s he has been crafting benchmark modern Barolo. Through high fermentation temperatures, short maceration and finishing in a mixture of French oak barriques and the larger traditional 'Botti' casks, Enrico makes svelte wines whose polish and sophistication enhance rather than shroud their character and typicity.'
Elio Altare is the name to note in this description, being famous for leading the younger winemakers of the day to overthrow their ancestor's reliance on larger casks, in favour of the influence of 'newer' oak barrels from France, or even America… These winemakers were and still are acutely aware that the older style of Barolo, from the notoriously tannic Nebbiolo grape, were completely inaccessible to the modern drinker wanting semi-immediate gratification. French oak adds polish and sweet spice, which unsurprisingly acts as the perfect foil to the grape's natural characteristics and fragrant fruit. The conflict between the old and new styles exists to this day (see Castello di Verduno), but it can be argued there is room for both. It was fascinating to compare the two styles of wine, from the same vineyard and just one year apart in vintage.
Fine Wine Wednesdays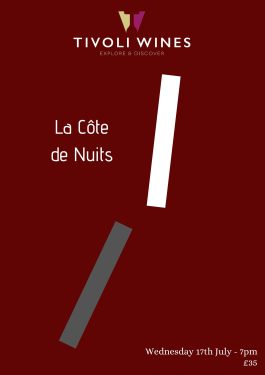 Our next Fine Wine Wednesday tastings are as follows:
Wednesday 19th June - Felton Road. (Last two tickets available, please call)
Wednesday 17th July - La Côte de Nuits. (Advance tickets available now, please call)
Wednesday 21st August - Le Côte de Beaune. (Advance tickets available now, please call)
We love showing wines from some of the world's best vineyards and winemakers, and we're determined to do it for a reasonable price. Let us know what regions or themes you'd like us to cover in the future and we'll do our best.