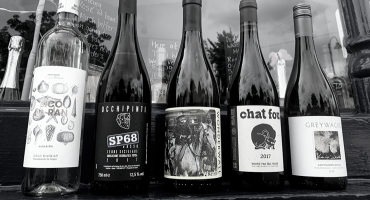 An update from the Tivoli Wines team
A word from David about Tivoli Wines' future.
"The pessimist complains about the wind; the optimist expects it to change; the realist adjusts the sails." William Arthur Ward
Last time I wrote to you all, the lockdown had just begun, Cheltenham was panic buying quinoa and we were suddenly learning that the recent neglect of our website would result in a lot of long days and late nights in the weeks ahead.
Five weeks on and it's fair to say that a lot has changed across the wine retail landscape. A sector which has traditionally resisted a shift towards online retailing, has seen its websites being taken down due to overwhelming demand, the market become more crowded as restaurants, bars and wine wholesalers switch to retail and established retailers diversifying their range to cover multiple sectors.
For us the last five weeks have been worrying, tiring, exciting and terrifying all at the same time. We consider ourselves one of the lucky ones who could trade both online and in-store, albeit with restrictions. We certainly didn't anticipate Cheltenham's level of thirst for wine so have been kept busy. But with The Wine Library temporarily closed and our events postponed, we miss truly engaging with our wonderful customers. My god we miss our events!
The closure of The Wine Library and postponement of our events has created a few financial challenges and we expect many, many more challenges in the next 6 months but we're delighted to have so far risen to the challenge and thankful for our customers' patience and support. All of our customers - loyal and new, online and in-store - have been understanding and respectful of our shop restrictions and stock issues as demand exceeded supply. Tina, Calum and myself really appreciate this so we thank you all for your support over the last five weeks.
So what have we actually done to adapt to the new reality and improve our customer experience?
Firstly, we quickly identified our most popular lines and started to buy these in bulk, to ensure they're available when you want them (and yes that includes Domaine Montrose rose). For other lines we have moved to a weekly, rather than monthly, ordering programme, meaning we can satisfy case orders for specific lines quicker.
Secondly, we have started to understand more about the wines you want and the price you want to pay, and have introduced another 100 lines into our range which hopefully fall into that category. Our range in-store currently sits above 500 lines with more being added online each day.
Lastly, we have changed our opening times to ensure we can offer daily, contact-less deliveries with a maximum delivery timeframe of 5 days (usually within 3 days) versus Majestic Wines current target of 10 days.
And more changes will be coming.
One of the benefits of the last few weeks is that is given us time to reflect upon how we work, who we work with and where we want to get to in the next 12 to 18 months.  Surviving the impending recession will be top of the list but we don't just want to survive, we want to move forward, making further changes to our wine list and our investment plans. Although we worry about the next 12 months, we're excited by the changes we can make and relationships we can build.
So we have started to plan for the 'new reality' and although we don't yet know our final destination, we have adjusted our sails and have identified our preferred direction of travel. We will see where the wind takes us but we hope you continue to support us on our journey.
Shopping local today will help to keep our high streets vibrant for when the lockdown, and following recession, is over.
We hope to see you all soon. Stay safe.
DD