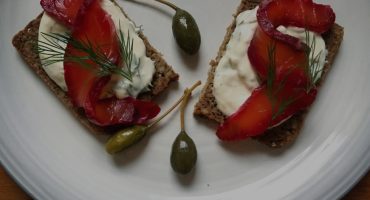 An Alternative Christmas Dinner
Last year, we wrote about how to match wine with a traditional Christmas dinner. There's nothing wrong with going traditional, but what if you want to push the boundaries a bit more this year? We've asked our good friend Lucienne Thompson to give us her take on an 'Alternative Christmas Dinner', with a few of our wines to match. 
Last year, we wrote about how to match wine with a traditional Christmas dinner. There's nothing wrong with going traditional, but what if you want to push the boundaries a bit more this year? We've asked our good friend Lucienne Thompson to give us her take on an 'Alternative Christmas Dinner', with a few of our wines to match. 
Ah, Christmas. The time of year filled with tinsel and twinkly lights, baubles and Bublé on repeat.
As a kid, the only thing you really care about is what The Big F.C. will be bringing you on Christmas day – usually something you've circled ten times in the Argos catalogue and haven't shut up about since June. Now though, it's the food and drink that takes centre stage.
It's not just the main event I look forward to, but a whole season of eating and drinking. I do try to hold off until December 1st, when it seems an acceptable time to be cracking out the mince pies, but with festive cheer in the air, I'm easily swayed.
Truth be told, I'm not very good at keeping up traditions in this department; I think it's a combination of FOMO (fear of missing out) and greed that means I'm forever wanting to try something new, be it a recipe or tipple of some sort. I know the grass is always greener on the other side, but only ever sticking to what you know is boring; I like to hop the fence and prance around other people's gardens.
Cue the annual trawl through various newspaper supplements, magazines and cookbooks, in an attempt to cobble together a menu for this year's Feast. Swiftly followed by a trip to hunt down a few exciting bottles to drink alongside.
A quick visit to Google will show you that there are thousands of articles telling you what to drink with your Christmas dinner – my advice here would be whatever the f**k you want, it's Christmas! Failing that, a Chardonnay or Pinot; pretty much my advice for life (Agreed. TW). But, 'wines to pair with turkey?' What about everything else? Rich gravy, herby stuffing, roasted veg, and what the hell goes well with the sprouts?! Gaaaah.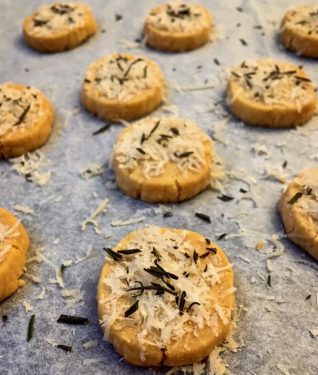 Christmas dinner is so fraught with complexities that this year I plan on slimming it down (not that kind of slimming – it's definitely not the time of year for diets). There'll still be bells and whistles – we're celebrating – as well as a bird. There simply has to be a bird. But I'm going to focus on the things that I want to eat, not the things I'm told I should be eating. So here goes; an alternative Christmas dinner with some wine pairings to boot.
Nibbles
The day must always be started with something sparkling. Fact. But no Buck's Fizz here thanks; as nice as it can be, I don't want to dilute my drink. Instead, I balance out the bubbles with some snacks. Nothing too substantial – you don't want to be laden with food too soon – and nothing too faffy, it's only to whet the appetite. Nigella's Parmesan Shortbreads are perfect for such an occasion. Little savoury gold coins more moreish than any chocolate variety, I've taken to adding an extra grating of cheese and sprinkling of rosemary, just 'cause.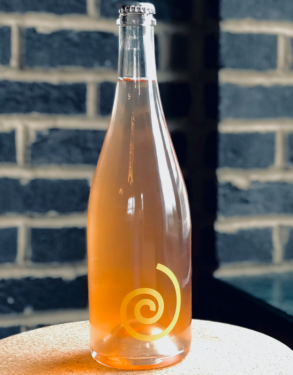 We love Champagne, and there's nothing wrong with the fact that its the most obvious Christmas Day wine pairing. In fact, the right bottle should service your needs all through the day. This year, however, we feel like supporting something a bit closer to home. And instead of an English sparkling wine that imitates its French counterpart, what about a Petillant Naturel (aka Ancestral Method, Col Fondo etc.) 
This sees the wine bottled unfiltered while still broadly within its initial fermentation, as opposed to the Champenoise method of making a dry base wine first then adding sugar to trigger a second fermentation, with the bubbles trapped in the bottle. Tillingham Petillant Rosé is a blend of Pinot Noir, Pinot Meunier, Chardonnay and Schonburger, made in East Sussex by Ben Walgate, formerly of Gusborne. For under £20, at only 10% alcohol, we could easily cope with drinking this all day.
Starter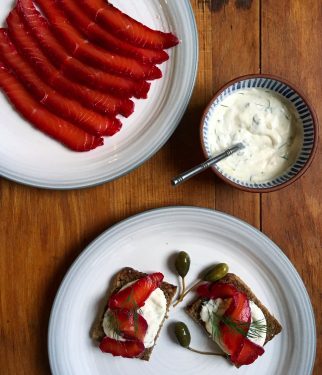 So long prawn cocktail, as much as I love your retro vibes with iceberg lettuce and a sauce of ketchup and mayo, I'm upping my game this year. I crave something light and fresh as a starter, so still sticking with fish I'm going for salmon cured with beetroot and orange. Curing your own salmon might sound a bit OTT, but it only takes a small amount of initial effort and you can then forget about it for almost a week. The result is way better than anything shop-bought, and the bright pink tinged edges will certainly get the (dinner) party started.
New Zealand Sauvignon Blanc has become something of a cliché, but that's not to say that there aren't producers out there doing things the right way, producers who worked hard to earn such a fine reputation in the first place. If ever Marlborough's finest had a time and place, it's here. The salmon is rich and soft textured, which is offset by the Astrolabe Province Sauvignon Blanc's bright acidity, while capers and dill add a green hint which Sauvignon Blanc naturally echoes with its nettley grassiness.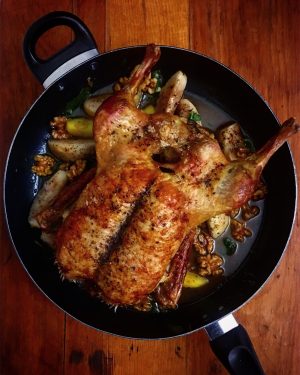 Main
A massive turkey seems a bit excessive when feeding just a few; it's always the most expensive element and, although being the centrepiece to the dinner table, it's probably the thing that we have the least affection for. A whole duck is a much more manageable size; more flavoursome than turkey, less fatty than goose. Partnered with quince, walnut and sage, along with a rich Madeira spiked gravy, you only really need a couple of side dishes. Potatoes obviously being one of them – it ain't Christmas without roasties – and anything green (cavolo nero is my fave).
Duck has to be one of our favourite foods to match wine with, bridging the gap between poultry and red meat. The classic match is Pinot Noir, whose ripe red fruit notes match beautifully with the rich meat, but this year we think we'll go to Tuscany for Vino Nobile di Montepulciano. Made from the classic Sangiovese grape, this has more of a sour cherry note, with a drying black tea character and a bit more structure than a Pinot Noir. The extra acidity and tannin give the wine a more robust, wintry character which is perfect with the quince and walnut. 
Another great match for Christmas lunch, whether its duck, turkey or even goose, is a red from the Southern Rhone. We've said time and again, unusually low-priced (supermarket...) Châteauneuf-du-Pape is almost always a disappointment. Go instead for an under-the-radar appellation like Cairanne or Rasteau.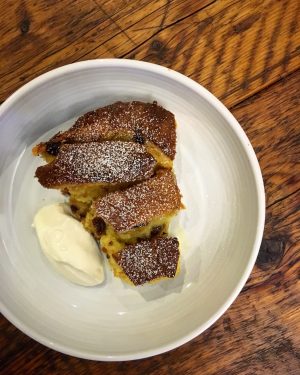 Dessert
Christmas pudding is one of those Marmite desserts. Some people (myself included) absolutely love it; hot, cold, with cream, brandy butter or even blue cheese. Others can't stand it, and I can kind of see why. Quite often I'm not even able to manage such a dense and intense dessert after everything else I've eaten. For something more crowd-pleasing, a Panettone bread and butter pudding does the trick.  'Tis the season for inevitable overindulgence, so why not take something (in this case Panettone) and add extra sugar, lashings of custard, bake it and serve it with a dollop of cream. You'd better get those stretchy trousers ready.
Something sweet is, of course, an option, and as ever, the rule is simple. Make it sweeter than the dessert itself, which in this case is to say, quite sweet! Monbazillac would be a fitting end to the day's main meal. There are though a number of alternatives... How about a fine spirit, like one of Capreolus Distillery's incredible eaux-de-vies? A stunning distillate of Sicilian Tarocco blood orange takes 45 kilograms of fruit to make 1 litre of spirit, and would be a beautiful counterpoint to the citrus peel in the pannetone. 
… And just in case you were wondering, I've not forgotten the pigs in blankets. I'm saving those to have in a sandwich for Boxing Day Breakfast. You can thank me later.